The books below can be claimed from: https://claims.prolificworks.com/gg/yspA93w2UfD64SID8G6g

Chiton vanished.
It was there, and then it wasn't.
How does an entire star system vanish?
300 years ago, the brilliant Krasna established her research c'hub on the unclaimed water-world of Prebis. Finally, her ferinon experiments seem to be going somewhere. Unfortunately, her increasingly bizarre behaviour and strange references to the past begin to worry her subordinates. Meanwhile, rumours circulate the c'hub of a fascinating, new fast travel technology that is being gifted to the galactic community by the Ascended Biologicals.
Chathindi studies the insectoid Risers – non-sentients, native to Prebis, that eject from the ocean to join the living blanket encompassing the world – and grows increasingly convinced they are more than they appear. Just who is observing who?
Every family holds a secret.
How far would yours go to keep it?
Twenty-eight year old schoolteacher, Claudia Cabriati, has no memory of her life before the age of eight. When a strangely familiar woman possessing knowledge of that life is shot and killed in the grounds of Claudia's home, it triggers a series of brutal murders and the heartbreaking revelation of an unspeakable family conspiracy. Claudia crumbles into a world driven by fear. With her trust challenged by those she loves, Claudia turns to the enigmatic Saul Reardon and together they embark on a dangerous journey in search of answers.
Detective Joe Horseman is a legend in Fiji rugby. But now injury has wrecked his rugby career, he dreads returning to the tedium of police work.
When a girl's body is found snagged on the reef at high-end Paradise Island resort, the festivities for a new marine reserve stop dead. Horseman no sooner lands at Suva airport after a year's rehab in the U.S. than he is packed off to investigate. While he wrestles with his future, his new sergeant, uber-efficient Susila Singh, is ambitious. As the pair pursue leads in idyllic coral islands and diesel-polluted Suva streets, they forge a tentative partnership. To discover why the girl died, they must drag to the surface secrets that have no place in paradise.
Dive into the fragile beauty of the Fiji islands: pick up Death on Paradise Island today.
At a young age, Rohan is taken away from his parents for the hope of a better life. It does not work out as expected. After years of torture and pain, he flees and joins a monastic life where he learns about ideals of life. After a decade of peace, his life takes a sudden turn when he finds himself in a jungle among a communist insurgent group in Northern India. He undergoes through the clash of identities and ideas, especially with the self-serving leader of the group. In a hope of starting a better life outside of the jungle, one day he decides to leave the group with some people who were willing to follow him. Will he be able to make it out?
***FREE PREVIEW CHAPTERS***
A legend buried for 2000 years. A woman compelled to uncover the truth.
210 BCE, CHINA. The most powerful emperor China has ever known is on the brink of death. In desperation, he sends his most gifted alchemist on a quest for the mythical elixir of life.
His fleet never returned…
NOW, archaeologist Georgia Lee is compelled to hunt for a mysterious man who may hold the secret to the greatest discovery ever.
Her search takes her from an ancient tomb in China, through traditional Japan, to the blistering Australian outback, and the dizzying heights of verdant mountains in tropical Taiwan. What begins as an investigation into an archaeological riddle turns into something very sinister. Georgia starts to suspect that perhaps she is the one being hunted instead…
When Loni realizes she has a stalker who wants her dead, she retreats to her hometown, hoping for support from people she knows.
In Canton she meets Matt Bennes, former Special Forces and closet psychic who finds her very attractive. She falls in love with Matt, but who does she dare to trust to stay alive?
Ride along with the New Orleans Police Department as the officers work together to solve unusual happenings in this unique, historic city.
You'll meet Zack Nelson, a former police officer, now living in a retirement center because of his daughter-in-law's illness. While he's not keen to move, he does so temporarily to help his son, Tom, and Patty cope with the medical issues.
Zack still got a lot of detective in him and senses that something is wrong with all the supposedly natural deaths that are happening, not only to his family but with the older folks who are seemingly in good health. He works with the police officers to help untangle and solve several ongoing crimes that seem to surround and affect him.
Along with his new roommate Dave, and two engaging sisters, Pearl Ann and Em.
Sometimes you get lucky.
Jake Burbank doesn't have to practice law.
A couple of contracts for friends turned him into a retiree at 27.
When a high school buddy gets picked up for murder, no one wants to help.
Except Jake.
Another favor he can't turn down from a law school lover puts him the media spotlight.
Two cases he can't win. Two cases no one wants him to win.
It's enough to drive a man to drink, and he was good at that to begin with.
The systems broken. Corrupt. And rigged.
And Jake Burbank is about to learn it the hard way.
Even if it kills him.
Grab your copy of DRINKS AFTER WORK, the first story in a new series because you like hard boiled smart ass heroes who would rather drink whisky on Tuesdays in a bar across from a giant car wash.
A crazed escapee and child abuser kidnaps Mike Delaney's wheelchair-user friend and 15-year old daughter. The ex-assassin, ex-cop and ex-monk is faced with a demon from his past. Will Delaney sacrifice his life for theirs? He has just four hours to save them.
Jarvis Mann is a PI, whose business thrived on the mundane
Paying the bills by shadowing cheating spouses
And working for the fat-cat insurance companies running down false claims
On a Winter's Sunday afternoon, a young man graces his office steps
His words coaxing with the simple declaration of "Please"
Convincing Jarvis to help find a valuable Ernie Banks rookie baseball card
With a dry sense of humor, Jarvis tours the Denver neighborhood
Door to door until a clue leads to a surprising discovery
A young man's personal pain revealed
Witnessing a friend's act of self-sacrifice
Both teenagers teaching Jarvis a life lesson
That will shape him with new hope and resolve
An 8400 word Short Story by R Weir
Plus a preview of the first novel in the Jarvis Mann PI series: Tracking A Shadow
I've spent my life believing that I must paint a perfect crucifixion to save myself from earthly suffering and then while being inches close to perfection, I found my biggest enemy, a devil himself, in a man who was a high religious official and a friend.
Where is my God now!? Who could I trust if not him!?
What did I do wrong to deserve such terrible faith!?
What's does he want me to do next to stop this dreadful life?
You think you know the world of magical boarding schools? Not from a teacher's perspective at a school for at risk youth.
Like any twenty-two-year-old who grew up obsessed with fantasy novels, Clarissa Lawrence expects all her Harry Potter fantasies to come true when she is invited to teach at a school for witches.
As if being the new "arts and crafts" teacher isn't hard enough at a school for juvenile delinquent witches, budget cuts are just as severe in the magic community, administrators are as unrealistic in their expectations of teachers, and the job is a hazard if the students find out you can't actually do magic.
As if this isn't enough pressure, she has to figure out why teachers are mysteriously disappearing. If she doesn't, she might be next.
Fans of Vito Zuppardo's "True Blue Detective" series will enjoy this story, which takes readers back to Mario DeLuca's rookie year on the beat and Zack Nelson in action as a NOLA PD homicide detective, as well as the early days of the infamous Cornerview Gang and the other unsavory characters that prowl the colorful, charming French Quarter. Grab a beignet and a cup of chicory coffee and get your copy now!
Killing Faith is the first book of the 'Faith' series of novels about an NYPD detective,a former Special Forces operative. Teamed with FBI Special Agent Faith Ward, their methods are always unconventional, often brutal, at times mystical.
When dismembered bodies start to appear in New York City, the search for a serial killer begins. Leading the hunt is Gabriel de Sade, a tough Manhattan detective. What should be a straightforward murder investigation escalates when yet more dismembered bodies are found. A very sick, psychotic murderer is loose on the streets of the city. Yet the case is to become more complicated than he could imagine. The nightmare is just beginning for de Sade, a Delta Force veteran of Afghanistan.
After thirty years of marriage, Rachel observes herself amid a matrimonial nightmare. While at first, she sought to write off Seth's nighttime escapades and drinking as a midlife crisis. The local sheriff hands her a foreclosure notice because her mortgage hasn't been paid. Rachel perceives something is awry.
Devastated and needing space to reflect, Rachel accepts a respite from her best friend Lauren to hang at her cabin in the Allegheny Mountains for Thanksgiving, where she reconnects with Lauren, and her family.
When Rachel tries to understand Seth's change of heart, the schemes of her husband, mother-in-law, and the entire Blackstone crew. The family she married into became an illusion.
As her thirty-year marriage dissolves, Rachel realizes that getting into the Blackstone family.
Meriwether Klark's new home is a strange place with an artificial sun, nannies made of metal, and ghostly echoes of someone locked below the mansion. While dodging his father's wrath, Meriwether learns the station is built on secrets . . . and he is determined to uncover them.
Before long Meriwether discovers his father's greatest enemy is a vengeful vigilante known as The Phantom of the Station. If Meriwether is to ever find out what happened to his mother and expose all the wicked deeds his father has committed, he will have to team up with a man more dangerous than his father.
If he is caught defying Lord Klark, he may end up dead.
This is the fourth book in The Memory Thief Series, but it can be read as a stand-alone novel separate from the previous books.
The Gypsy Curse is a cozy mystery written in the style of Agatha Christie.
Paul Menns's quiet life is shattered when he reads the local paper and discovers his picture on the front page as a murder suspect. He discovers further that the dead man's name is his own. Accused of killing a man with a description matching his own, he calls a private investigator, Lacey Summers, to help solve the mystery. However, he did not reckon on falling in love with the lovely PI.
Featuring short stories by Northern Lights Writers:
Candlelight and Silverware by Edna Curry
Love, Fish and Fangs by Edna Curry
Hot Shot by Denise Devine
In for a Penny by Lori Ness
Breath of God by Lori Ness
Shadow Trail by LuAnn Nies
Heal my Heart by Shirley Olson
Count the Days by Diane Pearson
Night Magic by Nancy Pirri
Following an unexpected medical diagnosis, Chris approaches life differently, which includes making a list.
The Chris Seely Vigilante Justice Series so far:
Book 1: Who Needs Justice?
Book 2: Justice on Ice
Book 3: Dirty Justice
Book 4: Justice Squared
Book 5: Justice Wrap
Book 6: Justice Blank
Discover this new series of murder and mayhem.
This charming cozy mystery will leave you scratching your head with its twists and turns.
Be enthralled by Dotty and her friends' laugh out loud adventures.
Out of work Dotty starts up a gardening business. She unearths more than she bargains for in the shape of human bones.
Who is the body in the garden?
Can Dotty and her friends get to the bottom of the mystery?
Together, they expose secrets and lies that rock the close-knit community.
Everyone's peace is about to be shattered.
This is the prequel to the Dotty Drinkwater Mystery Series.
Every Generation She Feeds
For rookie park ranger, Matt Holmes, life couldn't be better. He's met the woman of his dreams, lives in picturesque Thunderbird Falls, & spends his days working in nature's majesty. But Matt's picture-perfect life is about to take a turn for the surreal when his investigation into a string of accidental deaths reveals terrifying similarities with a series of fatalities 17 years prior, including the drowning of his mother.
Pagan ceremonies, unexplained occult rites, & a mysterious preacher are just a few difficulties Matt, girlfriend Colleen & fellow ranger Andy Zimmerman face as they uncover the source of evil feeding on the town of Thunderbird Falls for generations. The only question remaining. Can they stop it?
NOTE: This is a partial book & not full copy
Dawn Hope kept a close eye on the drunk across the aisle, the train clicked and clacked, vomit swilled near the door and stung her nostrils. And she knew, then and there, she hated Paris. The only problem was, Paris hated her worse.
When Dawn's ex-lover dies in her arms, she stands accused of the ultimate crime. Even worse, her drug dealing present and her security-analyst past throw her into a frantic mystery with only one end.
Tired, broke, and on the verge of losing it, Dawn must contend with murder and mayhem. Drugs and deception. Chaos in the face of predictably unpredictable events. And, to top it off, someone's setting her up. Dawn is determined to find out who.
The first story in the Dawn Hope series is a quick thrilling read in the noir tradition.
Grab your copy now.
I'm a witch in love with a frog. And you thought you had problems.
Witch out of Water is an introduction to the life and misadventures of Sammara Eve Hain when she is forced to return to her hometown of Bigfoot Bay after a blissfully ordinary thirteen-year absence.
*This paranormal cozy mystery preview is suitable for all ages*
Frank "The Comeback Kid" Davenport has made a cozy living delivering retorts for people too embarrassed to speak up for themselves. But when a beautiful young woman hires him to tell off her dad for abandoning her 18 years ago, Frank finds himself in a deadly race against the Mob to find the wayward dad before it's too late. Frank's only hope is to find out why the dad skipped town before his life, career, and that all-important first date are ruined.
In the seedy underworld of 1940's New York, revenge tastes like cherry pie with a side of lipstick and perfume. The Avon Lady is in town…
Betty Jones is a woman with a dark past, which she paints each day with Avon cosmetics and a picture-perfect smile. Despite the protective walls she has built around her new life, Betty is unable to live with the existence of those who once ruined her, so she embarks on a cold-blooded vigilante mission to be rid of them once and for all.
200+ five-star reviews.
A Woman's Work is Never Done is the first episode in the thrilling Crime Noir serialized novel readers describe as "An EXPLOSIVE laugh-out-loud story!" with the indomitable protagonist, Betty Jones, as "a female Jack Reacher", "powered as all hell" and "Sassy, Smart and Deadly!"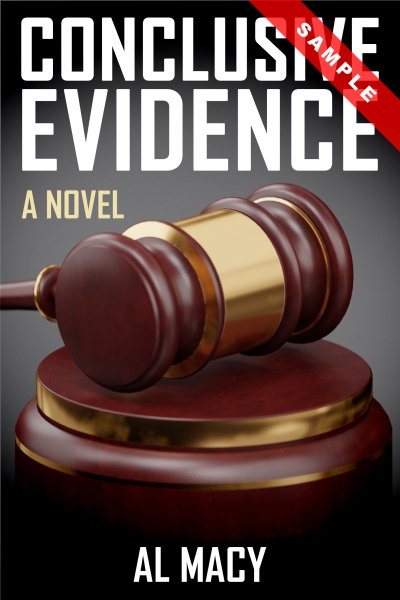 Garrett Goodlove used to be an arrogant criminal defense attorney, with a drive to win at all costs. After his wife died, he lost his edge.
But when his twin sister is accused of murdering her husband, he must get back in the game. If he can't conquer his demons and win an acquittal, she'll spend her life in prison, cut off from the deaf community she needs.
Garrett Goodlove used to be an arrogant criminal defense attorney, with a drive to win at all costs. But a pair of tragic events threw him into a bottomless depression, and he retreated into the practice of family law. Now, he tries to settle cases in ways that make everyone happy. He's a nicer person, but has he lost his edge?
"…a substantial piece of work, quite an achievement."
Writing.com
He thought he left fear behind in Northern Iraq. He also figured he would never again fire a gun in anger. An apartment block besieged by an unknown gunman in the city of Melbourne put an end to all that. Officer Nathan Cribbing confronts terror unimaginable. A gritty police drama where facts are not what they seem.
The books above are full novels or samples to give you a taste of what the author offers – ALL FREE!
JUST CLICK https://claims.prolificworks.com/gg/yspA93w2UfD64SID8G6g
A quick reminder – my book is only $0.99 until 28th August, so hurry!
You can get it HERE!